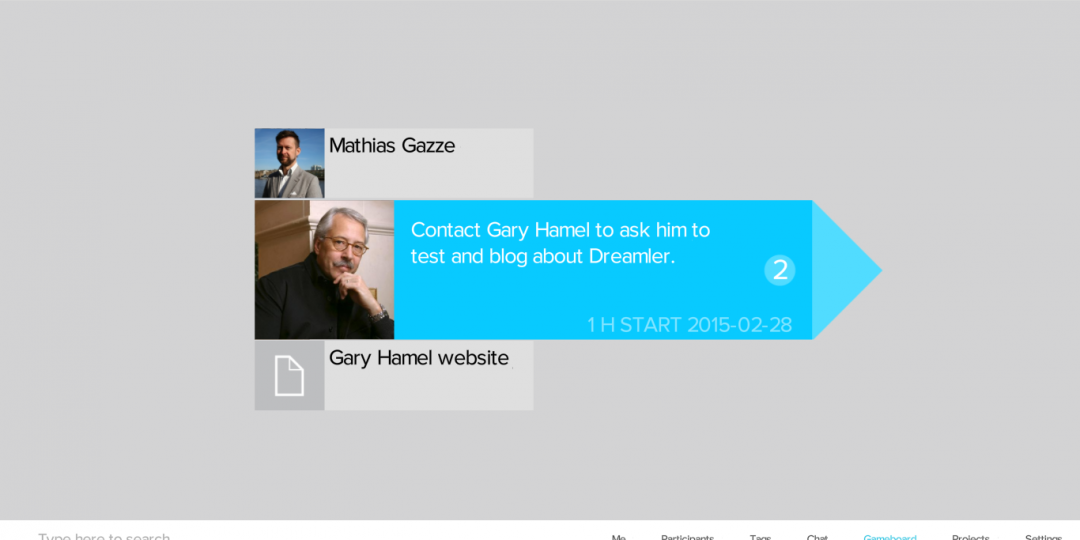 The whack-a-mole Dreamler release!
The past few months have been a bit of a rollercoaster (as ever in startupland) and in the midst of that trying to develop software has been a bit like whack-a-mole game: Hit and miss bursts of development at even increasing speed, where each miss equals regression you have to make up for with the next hit.
OK, it's not that bad. We actually managed to improve things quite a bit, and for you patient and highly appreciated early access users this means a lot of sought after features. Log in at dreamler.com to download it.
Add images to activities
This is something that a lot of early users have requested as well as something our whole team has been longing for when using Dreamler. It has taken us some time to develop but it's now up and running and it feels like a good achievement that will enhance the storytelling of Dreamler.
One click to find your activities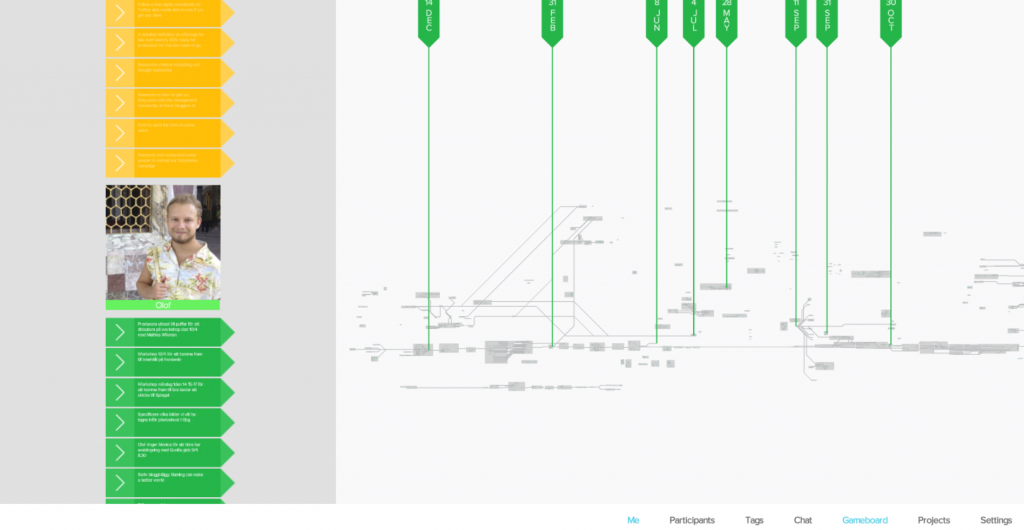 We made it easier for users to quickly filter the gameboard to easily view all their activities. Click your user avatar in the top right corner to highlight all your activities on the gameboard and to show these as a list on the left. If you click the Activities in the list, the camera will move to that location on the gameboard.
Zoom into building blocks to edit details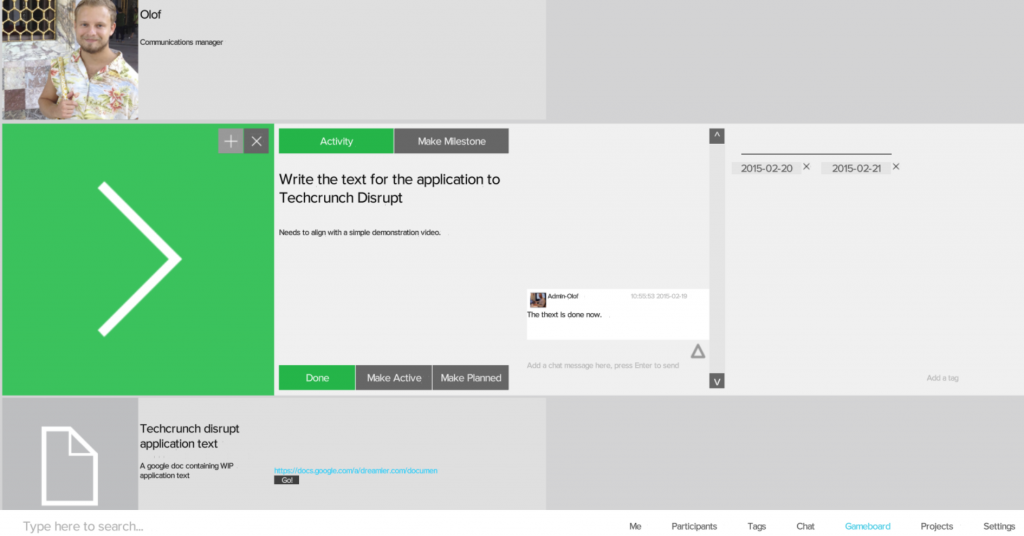 In the last release we used a pop-up modal where you could edit activity and resource details. We found out that this wasn't such a good idea because it was contradictory to our real-time principle. You can now zoom in closer to the activity to edit details, add tags, change status and to access the activity chat. It's much smoother!
A global project chat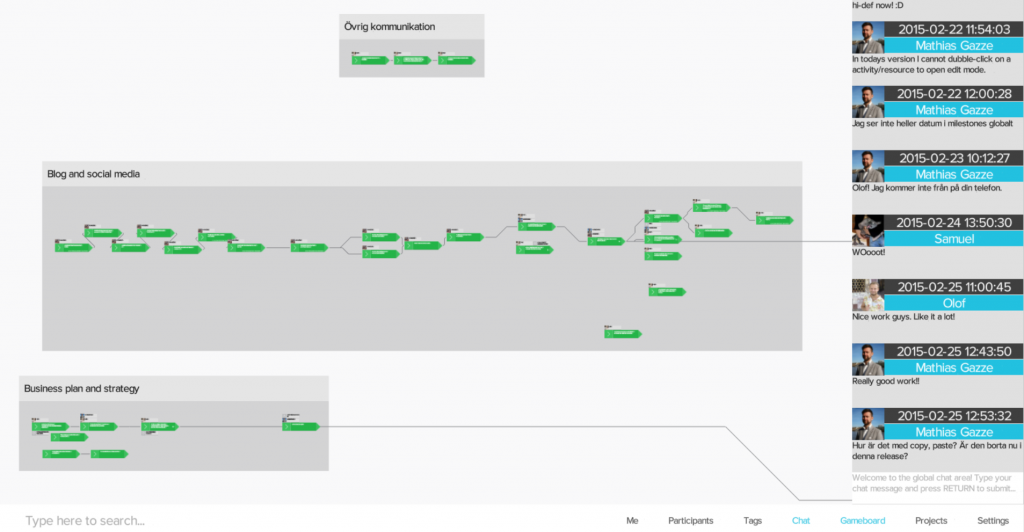 We have implemented a project-wide chat so you and your team mates can discuss project-wide matters or just greet each other when you're both seeing each other online in Dreamler. Our team have been using tools like Skype to chat with each other while planning in Dreamler. It just didn't make sense to keep it that way.
A search feature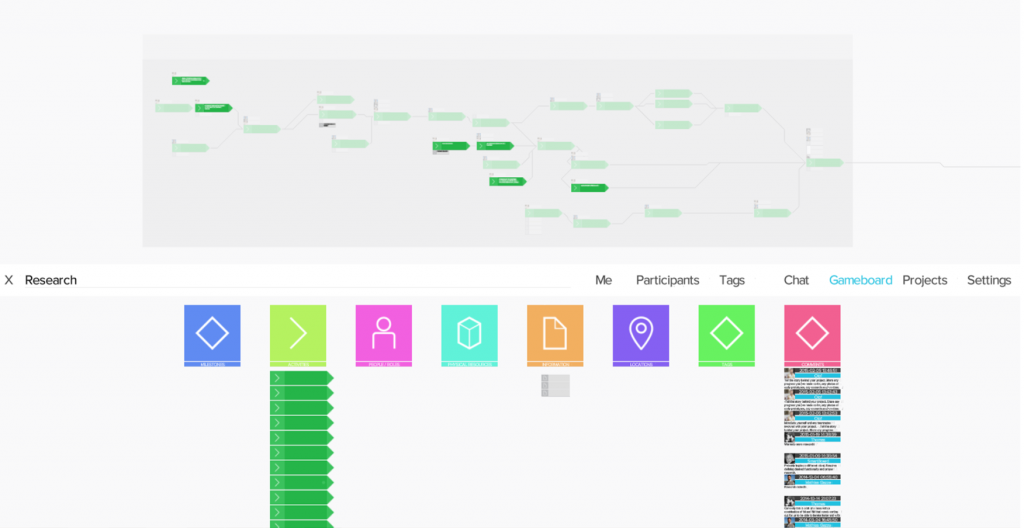 This feature isn't in anyway complete but it's still helpful for the basic stuff; to search for words in activity descriptions, chat, tags, etc. It works well and all but we need to make it smarter to make it even more useful.
Improved filtering on participants and tags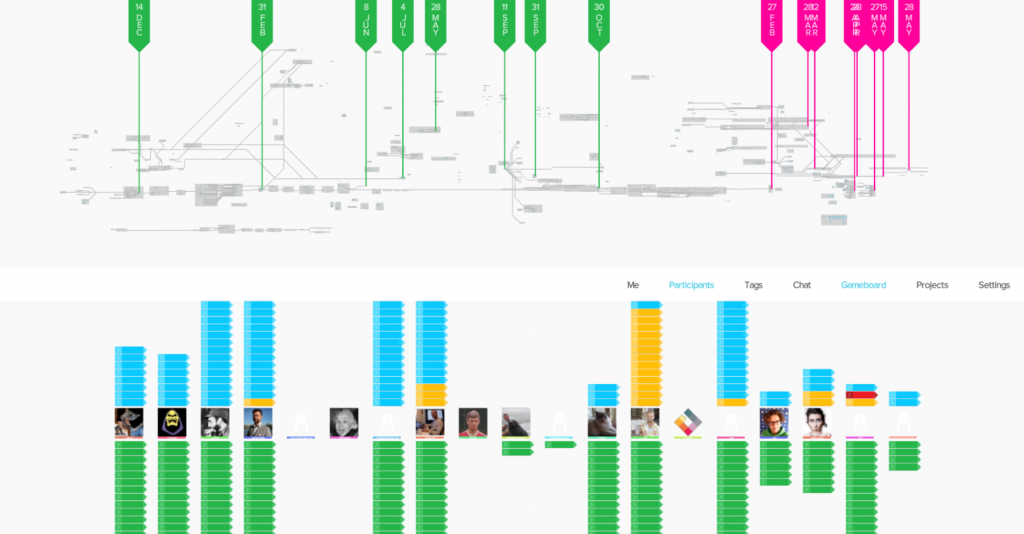 As shown in the picture above we've changed the way of displaying filtering results. By clicking the 'Participants' menu button you'll find the activities for each participant next to each other horizontally. This way you can see exactly which activities your team mates have initiated or completed recently. You can of course also see who in your team is using Dreamler the most, which creates a fun little competition.
The line connections now look better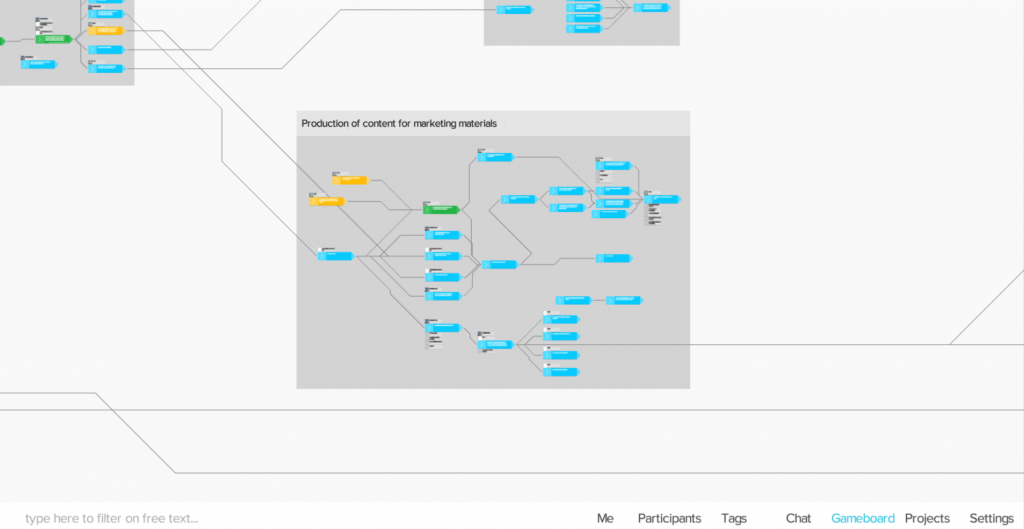 The image is pretty much self-explanatory. We have changed the line connections from rounded to jagged to make them look cleaner.
Log in at dreamler.com to download it.
By the way, we're still a small start-up, so if you liked this update, it would mean the world to us if you'd share this blog post with your friends by clicking one of the social buttons below.