Visually on the same page
Planning is all about figuring out what actions to take and in what order. Each person adds their activities, resources and goals to an infinite board. Together they create a visual map that is concrete, unambiguous and easily managed by everyone involved. Visualizing how all the parts fit together as a flow greatly improves how people understand a project and communicate with each other.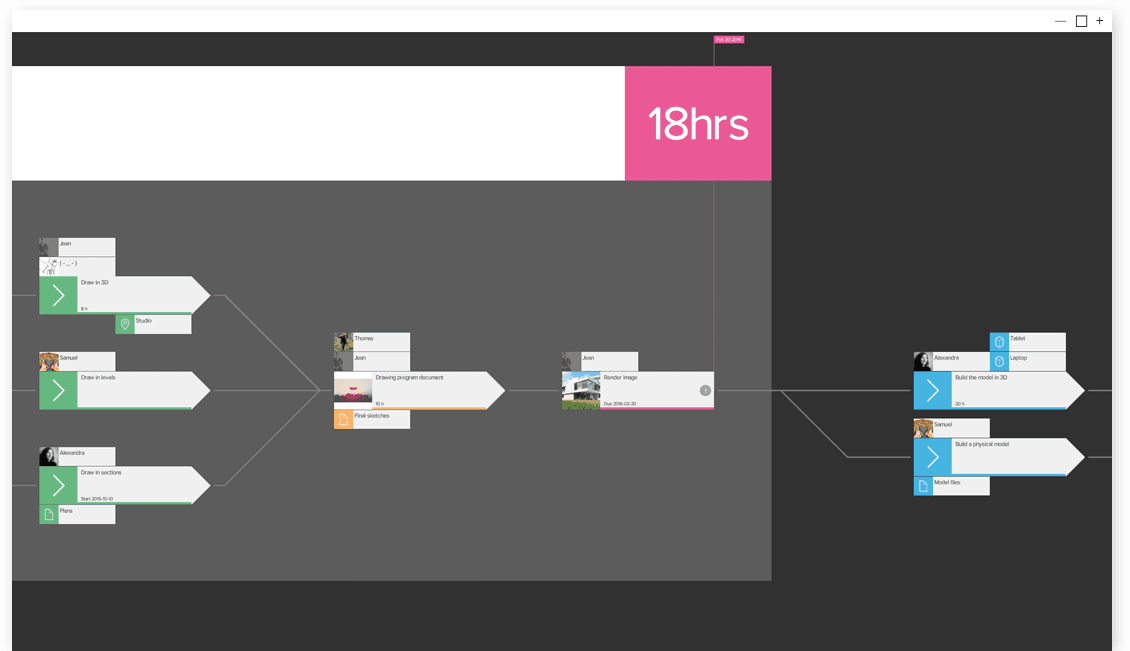 Engaging real-time collaboration
You will see what your team is working on in real-time as it happens, and when we say real-time, we really mean it.
High performance graphics and networking makes sure even the largest projects (+500K activities, +100 concurrent users) remains a fluid and enjoyable experience.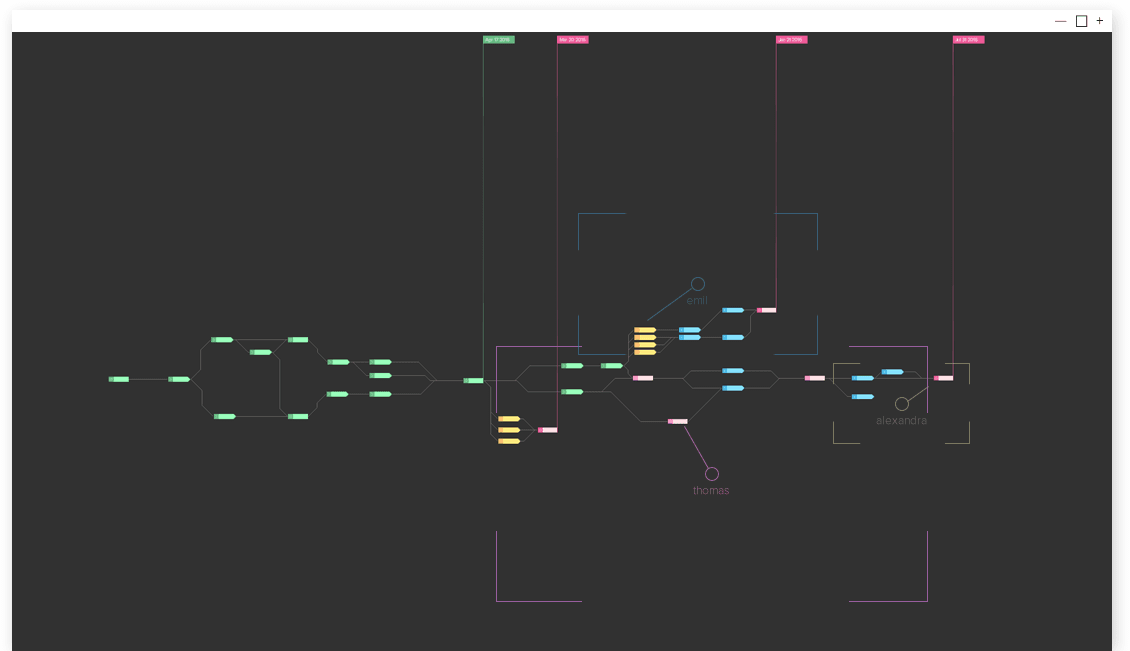 Manage complexity
Plan and manage the entire range of project complexities, from a strategic overview, right down to the nitty-gritty of daily work on a single map. Zoom out to get an overview of project progress and health. Zoom in to edit the details of an individual task without losing context.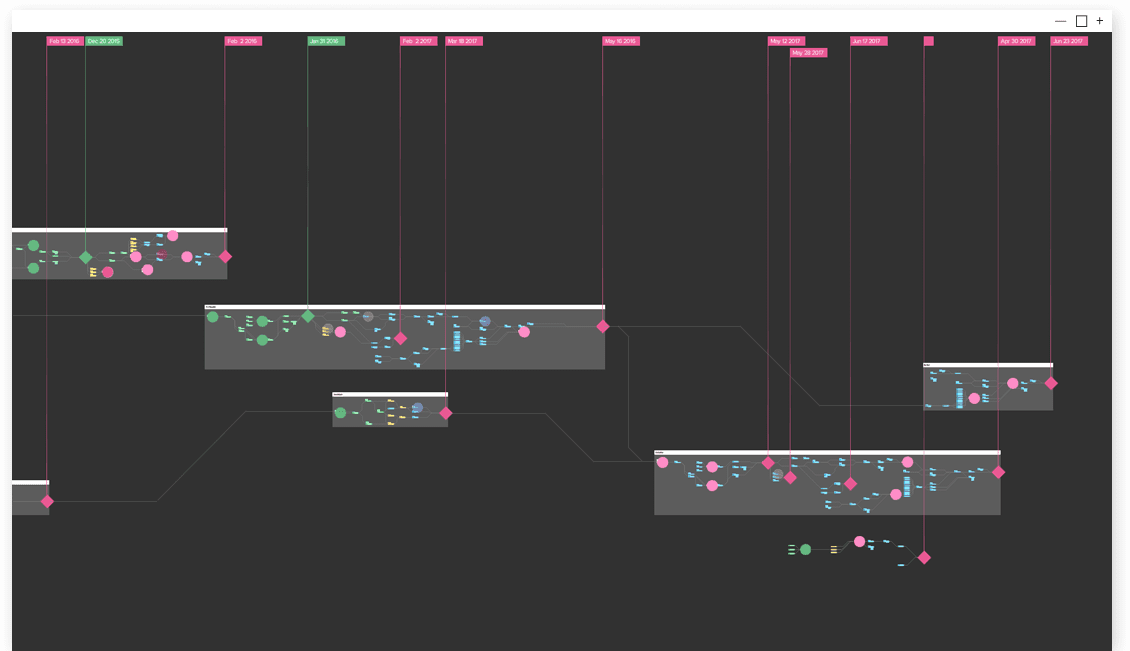 Effectively reach goals
Realizing a vision can be a messy and difficult process. It's hard to make plans that actually work in practice, don't waste resources or compromise the vision. Rapidly changing conditions call for plans that can be understood and adapted by everyone involved, not just the planning expert on the team.
Dreamler is the most enjoyable and efficient system for any team to collaboratively create and manage a visual plan to effectively reach desired goals.
A simple visual language
that's easy to learn
To truly reach an efficient way of collaborating we believe in engaging the whole team in the process of building their plans. This is why the features of Dreamler are designed to be intuitive, easy to learn and easy to use, for anyone.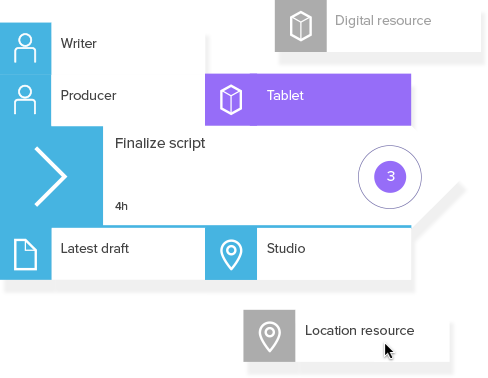 Activities
Create and describe Activities with your teammates on a common collaborative Board.

Boards
Create multiple Boards for your projects and invite your teammates to collaborate.

Checkpoints
Add checkpoints to divide greater goals into smaller ones, making sure that you're in line with your plans.

Milestones
Put up greater goals by using Milestones to create a shared understanding of where you and your team are going.

People
Assign People to Activities to make sure nothing is left to chance.

Physical Resources
Attach Physical Resources needed to execute an Activity.

Digital Resources
Attach Digital Resources like images or documents that are needed to execute an Activity.

Location Resources
Add the Location where the Activity is taking place.
Grouping
Simply group Activities to categorize your processes and projects.

Dates and Duration
Add information regarding dates and duration for Activities.

Status Updates and Editing
Communicate the status of the project to your teammates by setting an Activity to Planned, Active or Done.

Global chat and per-task messaging
Assemble your conversations regarding a specific task within an Activity, or use the Global Chat to communicate with your whole team.

Tagging and filtering
Create and name tags to easily search and filter through your projects and activities.

Linking to show dependencies
Use links to illustrate dependencies between Activities while designing and planning your processes.

Real-time experience
Never have to click "Save", and see teammates in action, moving and pointing on your common plan.
Start using Dreamler today
Dreamler is available for PC, Mac and Linux.
Individuals & small teams
€12.90/mo/user billed annually
€9.90/mo/user billed annually
All subscriptions include all features and unlimited Boards.
We also offer 3-days on-site workshops to help you and your team getting started with Dreamler.
Learn more or send a request here.